Stuart Milk
Global Human Rights/LGBT Civil Rights Speaker and Advocate
Stuart Milk is an international human rights activist, LGBT rights speaker, government relations consultant, and youth advocate. He is the co founder and Board President of the all volunteer Harvey Milk Foundation. As the nephew of Harvey Milk, the iconic civil rights leader, Stuart has taken his uncle message of authenticity, example of courage and the power of collaboration onto the global stage supporting local, regional and national human rights struggles and emerging LGBT communities on five continents.
Stuart successfully led campaigns for the establishment of the now annual Harvey Milk Day holiday in California and Milks' induction into the California Hall of Fame and he accepted on behalf of his uncle the highest civilian honor in the US, the Medal of Freedom, from President Barack Obama. Stuart continues to lead efforts to have the legacy of Harvey Milk taught in public schools, memorialized on buildings, LGBT Centers, monuments and parks. Â He is a regular television commentator on LGBT rights and the broader global human rights struggle for NBC Universal affiliates MSNBC, being seen frequently on national US broadcast and cable TV as well as on international broadcasts by the BBC, SKY and VTV in Asia. Milk is also a contributor to the Huffington Post.
Mr. Milk has worked with and alongside local and national LGBT organizations on six continents in both official matters with legislative and governmental entities as well as in capacity building events and demonstrations.  He has been an official delegate abroad on Human Rights issues and often serves as a representative and liaison for formal and informal dialogue with foreign policy leaders.  He frequently gives major keynote addresses at political conferences and conventions, international congresses, LGBT pride events, public demonstrations and parades, film and educational festivals, equality summits, and NGO and non-profit capacity building fundraising events.
Stuart has led collaborative international congresses on minority inclusion, diversity education, and workplace acceptance. Â Having over two decades of leadership experience in both public and private workforce programs, he often consults with business and community organizations finding the intersection of economic growth and social progress. Â Stuart has been recognized with numerous awards including Spain's Muestra T' award, Italy's Medal of Turin, Hachamat Lev Award from Keshet/Jewish Mosaic and California's Equality Champion as one of the most tireless volunteer advocates of a globally inclusive LGBTI rights movement. Â Stuart also serves on the boards of Equality California, Marriage Equality USA, the International Conference on Disadvantaged Youth, AFER, he co-chairs the Annual International Summit on the Intersection of Human Rights and Economic Prosperity and he Chairs the Beyond Tolerance Global initiative.
More:
Stuart's first public address as an out LGBT activist took place at Oberlin College in 1984, where Stuart along with the Academy Award winning producer of  The Times of Harvey Milk, Richard Schmeiken, together addressed a crowd of thousands on the vital importance to the LGBT equality movement in remembering and celebrating his Uncle Harvey Milk as a civil rights hero on par with Martin Luther King, Cesar Chavez and Ghandi.  Over two decades later, Stuart's voice still gives rise to the story and lessons of his Uncle Harvey Milk.
Today, Stuart Milk has traveled hundreds of thousands of miles, speaking in more then 40 states in the US and over 20 countries on six continents.
Mr. Milk has been a leader in the human services field as an advocate in both the public and private sector serving at-risk youth and the economically disadvantaged.
Although Stuart often is quoted for remembrances of his intimate conversations with his late Uncle, he strives to continue the work his uncle  Harvey started with an ultimate goal to eradicate discrimination directed towards any and all marginalized minority communities; Mr. Milk feels he and all that follow in his Uncle's footsteps will have fully honored the Harvey Milk legacy when minority discrimination, inclusive of LGBT discrimination and LGBT prejudice, both legal AND societal, has been halted and equality becomes the norm not only in the US but throughout the globe.
Stuart  Milk  Speaking Engagement Highlights include:
California Democratic State Convention, Sacramento, California, United States;
Turkey Lambda LGBT Panels, Istanbul, Turkey;
Florida Democratic State Convention, Disney World, Florida, USA;
Harvard University Human Rights Conference, Kennedy School of Government, Cambridge, USA;
Spain's Annual Cultural Stage, Madrid, Spain;
International Conference of Inter-Pride, St. Petersburg, USA;
Global Congress on Equality, Cape Town, South Africa;
Youth First Texas, Dallas, Texas, USA:
Come Out With Pride, Orlando, Florida, USA;
Sao Paulo Justice , Sao Paulo, Brazil;
Milk Alumni Recognition Event, Â Albany Teachers College, Albany, United States;
Gay American Heroes Foundation, Fort Lauderdale, Florida, United States;
Cross Atlantic Conference, Rotterdam, Netherlands;
Emery Awards, New York City, New York, United States;
State University of New York at Albany, Albany, New York, United States;
Equality Florida Annual Gala, Orlando, United States;
Equality California Annual Gala Awards, San Diego, CA, United States;
Pacific Freedom Congress, SAR Hong Kong, China;
Grand Marshall, San Francisco Pride, San Francisco, CA, United States;
Sydney Pride (Mardis Gras), Sydney, Australia;
LI Equality Awards, Long Island, New York, USA;
Pan American Human Rights Summit, Santiago, Chile;
Eve of Justice and Candle lit March, San Francisco, United States;
Garden State Equality, South Orange, New Jersey, United States;
Anniversary Candle Light March and Rememberence, George & Harvey, San Francisco, USA;
International Organizational Development Congress, Zeist, Netherlands;
California Hall of Fame, Sacramento, United States;
National Educators Conference on LGBT Youth; California, United States;
Human Rights Alliance Gala, Santa Fe, New Mexico, United States;
Grand Marshal, Boston Pride, United States;
Grand Marshal, San Diego Pride, United States;
Human Dignity International Congress, Quito, Equador;
International Court 45th Annual Recognition Gala; Lexington, Kentucky, US;
HMF kickoff at the California Museum, Sacramento, CA, United States;
EQCA Harvey Milk Day with US Speaker Nancy Pelosi; San Francisco, CA, United States;
MILK celebration, Los Angeles, CA, United States;
Harvey Milk Diversity Breakfasts, San Diego and San Francisco, United States;
"Riots to Rallies", Boston, Massachusetts, United States;
Unification Summit, Mexico City, Mexico;
LGBT Jewish Movement Building Leaders Convening, Berkeley, CA, United States;
Summit of Americas, Status of Minorities, San Jose; Costa Rica;
No to Hate Candle Lit Vigil, Trafalgar Square, London, United Kingdom;
Unity Coalition/Coalition Unida, Legends Award, Miami, Florida, United States;
University of San Diego, San Diego, California, United States;
Medal of Turin, Turin, Italy;
Dialogue on Justice and Equality, Damascus, Syria;
Pacific Asian Summit on Human Rights, Tokyo, Japan;
State Visit, President of the Italian Chamber of Deputies; Italy;
Keshet National Gala, Boston, Massachusetts, Unites States;
Equality Italia Human Rights Tour, Genoa, Bologna, Padua and Milano, Italy;
Human Rights Address to Italian Parliament, Rome, Italy;
Pittsburgh Pride Advocacy Rally, Pittsburgh, PA, United States;
Budapest Pride-Opening Keynote, Budapest, Hungary;
Business Diversity 2011, Brussels, Belgium;
Prague Pride (First), Czech Republic;
Central America Human Rights Conference, Panama;
SGMC Human Rights Leadership Award, San Francisco, United States;
17-24-30 Rally, London, United Kingdom;
Gaybor Opening, Tampa, United States;
Turin International Film Festival, Opening, Turin, Italy;
Axler Shabbat Distinguished Speaker Series, Beth AM; Coral Gables;
LGBT Caucus Winter Conference, Key West, Florida, United States;
Emerald Youth Advocacy Ball, Palm Springs, CA, United States;
United Kingdom House of Lords, UNA Human Rights Address, London, United Kingdom;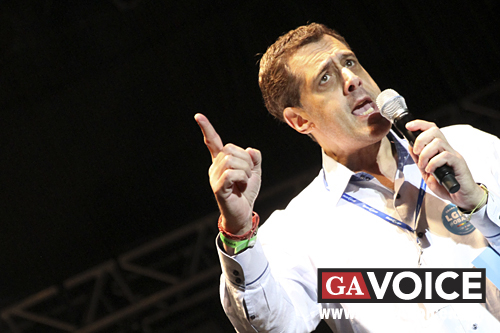 Intermediate Collaborative, Pacific Region Conference, Guam;
Metropolitan Business Association 2012 Gala, Orlando, Florida USA;
University of Milan 2012 Civil Rights Lecture, Milan, Italy;
International Law Enforcement LEGAL Conference, Disney World, USA;
Long Beach Harvey Milk Oceanside Promenade Park, Long Beach, USA;
Harvey Milk Street Dedication, San Diego, CA, USA;
Socrates School, Rome, Italy;
Substance & Celebration @ the California Museum, Sacramento, California, USA;
2012 Baja Pride Celebration- Grand Marshal, Tijuana, Mexico;
Albano City Hall Civil Society Panel, Albano, Italy;
Columbia Lecture, Alberta, Canada;
2012 Charlotte Pride, Charlotte, North Carolina, USA;
2012 Pride Keynote at the Atlanta Aquarium, Georgia, USA;
GLOBAL Diversity Address @ Johnson & Johnson World headquarters, New Brunswick, NJ, USA;
Johnson & Johnson McNeal Consumer Division, 2012 Global Diversity Address, Fort Washington, PA;
Atlanta Pride Rally, Atlanta, Georgia, USA;
Business Executive Network 2012, the Rush Center, USA;
2012 Cross Atlantic Summit on Human Rights and Economic Prosperity, Italy;
2013 Grand Lecture on Civil Society, University of Milan & Bocconi University, Milano, Italy;
MOVIHL & Providencia City Hall Diversity Panel, Santiago, Chile;
BAGLY Honorary Degree Gala, Boston Museum of Science, Boston, USA;
President Obama's Champion of Change Awards keynote, The White House, Washington, DC, USA;
The Center of Central Florida Diversity Breakfast, Orlando, Florida, USA;
2013 Canadian Inspire Awards Keynote, University of Toronto, Canada;
2013 Marriage Equality USA Gala, San Francisco, USA;
San Diego Diversity Breakfast, San Diego, USA;
Hungarian Civil Society Organization, Segued, Hungary;
Budapest Pride, Panel, Budapest, Hungary;
European Union Human Rights Conference – A European Roadmap to Equality, Keynote Address;
Public Human Rights Address before the Lithuanian Parliament (The Seimas), Vilnius, Lithuania;
Baltic Pride 2013 Parade and Rights Rally;
San Francisco Historical Society Keynote, San Francisco, USA;
2013 European LGBT Diversity Congress – Keynote, Berlin, Germany;
Rollins College, Guest lecture, Winter Park, Florida, USA;
Transgender and Intersex Remembrance Mass  Guest Lecture, Catholic Diocese of Berlin, Berlin, Germany;
Tucson Pride Parade and Festival, Tucson Arizona, USA;
Bisbee Pride, Keynote Speaker, Bisbee, Arizona, USA;
University of Arizona – Guest Human Rights lecture, Tucson, Arizona, USA;
Jewish Community Center – Distinguished Lecture Series, Tucson, Arizona, USA;
2013 Victory Fund International LGBT Leadership Conference – Keynote, Denver, Colorado, USA;
Stuart Milk Provides the Keynote Address at the 2013 White House Champion of Change Ceremony